Every year, more districts make computer science and coding a priority. But students come from all sorts of computer experience – and so do teachers. How can everyone make computer science classes engaging, effective, and fun?
To help you teach computer science even more effectively,  we've created this handy poster you can use in your classroom. Here's a suggestion on how you can use it to engage students:
Set some ground rules for computer time. A few of your students will be tech geniuses and blast through any assignment. The tips on this poster will help them just as much as students (and adults!) who get frustrated when they use computers.
Plan each of these tips into a classroom period. For example, maybe your class would respond well to a Q&A recap after an activity. Or perhaps you can teach coding principles every day.
Reference the poster to help students navigate challenges and be successful in coding.
You can even build lessons around each of these 7 tips, or incorporate them every time you teach.
To help you and your class learn how to get the most from your experiments, our Learning Experts have created this free poster. Click it below to view the full size or download the PDF by clicking here.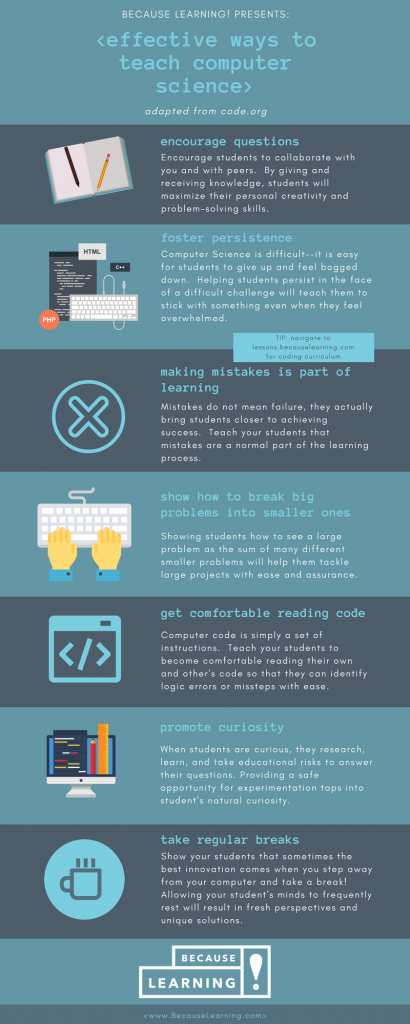 Feel free to print it, hang it in your classroom, or share it with other teachers!
Chat With Us, From One Teacher to Another
Our Learning Experts have years of teaching STEM in the classroom. If there's a problem you're struggling with, chances are they've worked through that same problem and are eager to share what they've learned. To get in touch with our Learning Team and receive a free, personalized consultation, fill out this form: