It's finally here – the world's biggest group coding event. We'd love you to participate with 200,000+ others who are learning code just like you.
We've been talking about it for weeks, but it's finally here! Hour of Code officially runs through December 10th.
What will you do?
Will you teach a microcontroller how to tell knock knock jokes?
Or will you create a holiday light show to celebrate the season?
Maybe you'll hack together a game you can plan on an OLED screen (the same tech used in the new iPhone)
You could even do something like this: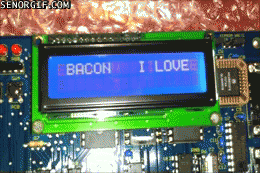 Whatever you decide you want to do, here's the most important thing: do it!
Hour of Code is all about overcoming your fear of trying something new. It's about exploring and finding potential inside yourself you didn't even know was there.
We Want to Hear What You Did!
When we learn together, we learn more.
Will you share what you learned with the Because Learning community?
Here's how:
Do a coding lesson some time this week. Check out our list of lessons to get ideas.
Fill out the form on this page to tell us about it.
We'll be waiting to see what you do!
Share Your Experience