As educators, it is our job to take into consideration the unique qualities of this generation and factor that into the way we teach. And that may mean an upheaval of what is considered a pretty "traditional" teaching method.
Meet Generation Z.
Born between 1995 and 2009, these are the kids that are currently enrolled in schools and universities around the globe. And they are drastically different from the generations that have come before them.
Almost half of all Gen Z-ers spend more than ten hours online each day. And while such unparalleled access to information that the Internet has to offer definitely has its benefits, it also means that today's students have much shorter attention spans than their predecessors.
Out with the Old
Although the lecture has been a standard method of teaching in schools for quite a while now, new research indicates that it may no longer be the best way to instruct today's students.
A 2014 study published by the Proceedings of the National Academy of Sciences reports that "undergraduate students in classes with traditional stand-and-deliver lectures are 1.5 times more likely to fail than students in classes that use more stimulating, so-called active learning methods."  
Yet the lecture been around for so long – since Ancient Greece, in fact. Why is it just now becoming obsolete?
As we mentioned above, Generation Z – the generation currently enrolled in schools and universities – is unique. They are the first generation to attend school while simultaneously dealing with the sometimes-overwhelming connection (to both others and the outside world) that smartphones provide.
Generation Z is constantly switching between various functions on their smartphones. One minute they're messaging their friends, the next minute they're scrolling through Instagram, and the minute after that they're catching up on the latest news updates.
This inundation of information all made available on a small, handheld device means that Generation Z is used to receiving their information in quick, bite-sized amounts. It's no wonder that these kids are finding it wildly difficult to sit through a lecture, which could easily last anywhere from thirty minutes to over an hour.
In with the New
That 2014 study cited above also indicates that active learning increases student performance in science, engineering, and mathematics – A.K.A., STEM topics.
But what exactly is active learning?
A 1991 report on the benefits of active learning defines active learning as "anything that involves students in doing things and thinking about the things they are doing."
So basically, active learning is pretty much anything other than students just sitting in their seats, watching and listening and taking notes. It's asking students to take an active role in their learning process while thinking about the implications of what they're doing, as well as how and why they're doing it.
This may be especially important when we're talking about how learning happens in a STEM classroom. Concepts like chemical reactions, electricity and conduction, and solar power may be too intimidating when presented in a lecture format.
And even if students are able to copy down what their instructor says about these concepts, it is fundamentally different to experience them through hands-on activities. Students are able to see what STEM looks like in real life instead of on a PowerPoint life.
Ways to Implement Active Learning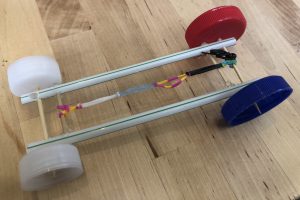 At the end of the day, there is pretty much one way to lecture, and that is standing at the front of the classroom. Yet one of the best things about active learning is that it can take shape in myriad ways.
Active learning can be achieved through:
Group discussion

Audio

Video

Journalism

Problem-based learning
For examples, students going through Laser Timing Ramp Physics, a new lesson on our Lessons portal, can work as a group to solve problems. This creates a much more active learning environment than simply a lecture.
Why Active Learning Works for Generation Z
When you take into consideration the ever-evolving digital landscape that Generation Z has grown up in, it comes as no surprise that active learning is a much better fit for these kids.
Active learning strategies can be as short as a few minutes long, which makes them a perfect fit for a generation of students with shorter attention spans.
Generation Z is also a group of super multi-taskers – think of how often they're switching from one app on their phone to the next. Active learning can take many forms in one class period, allowing students to focus on one activity for a set period of time before moving on to the next one.
In addition, technology can bridge the gap between traditional instruction (like lectures) and more interactive learning styles. For kids who are driven by graphics and visual stimulation, technology is a great option to introduce active learning into the classroom.
These students are also extremely socially inclined. They've grown up on social media and are used to being in constant contact with their peers via their phones. This can be used to both teachers' and students' advantages: active learning allows room for conversation, which facilitates both comprehension and transfer of learning. Some ways to facilitate conversation in a STEM classroom can be found here.
The world around us is changing every second, so it makes perfect sense that the way we teach students about the world needs to change as well. Implementing active learning in your STEM classroom will ensure that you're preparing this generation for the life they'll lead and the work they'll do after they graduate.
(And of course, if you want 150+ Lessons where you can implement active learning in your classroom, check out our Lessons portal.)