We're thrilled to finally announce the winners for AstroSchool Fall 2018! Each of the educators below represents someone dedicated to bringing STEM excellence to their students.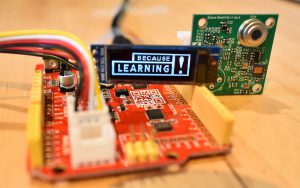 Thanks to a generous partnership with the Association of Space Explorers (ASE), AstroSchool is a six-week program designed to enhance STEM education. Each week, participating educators receive expert professional development, collaboration with other educators, and exposure to new technology for the classroom. They'll also receive a free Because Learning Sensor Kit. All in all, the training and Sensor Kit are a $1000 retail value.
The result? Better STEM teaching which engages students, excites learners, and improves class performance overall.
When teachers complete their AstroSchool professional development, they'll receive a certificate demonstrating their professional development. Learn more about AstroSchool here.
Fall 2018 Winners
Congratulations to the winners below! We look forward to getting to know you and collaborate during AstroSchool! (Some RSVPs still pending – check back for updates.)
Doloumar Bergen
Eastvale STEM Academy/Corona-Norco Unified School District, Eastvale, CA
Kathy Biernat 
St. Mary's Visitation, Elm Grove, WI
Mindy Bissett
Seventh Street Elementary, N. Little Rock, AR
Keri Book
University of Arkansas CMASE, Fayetteville, AR
Ginger Boyd
Slocomb Elementary School, Slocomb, AL
Robert Bumbary
Navy Elementary, Fairfax, VA
Celeste Cobflitti
Eastwood Academy, Houston, TX
 Judy Dickey
Mosley High School, Lynn Haven, FL
Laura Dunn
Miles Elementary, Tampa, FL
Shay Fairchild 
Norwalk La Mirada Unified, Norwalk, CA
Becky Fritchie
Spanish Lake Primary, Geismar, LA
Richard Galian
Eastwood Academy High School, Houston, TX
Sunil Kumar Gilla
Maricopa Institute of Technology, Phoenix, AZ
Jen Gossert
Conrad Weiser West Elementary, Womelsdorf, PA
Olga Granat
BF Middle School, Valparaiso, IN
Mary Gregory
Lewis Palmer High School, Monument, CO
Ana Harvey
Lowell Elementary, Santa Ana, CA
Jaime Heiner
Spectrum Academy, North Salt Lake, UT
Jessie Holder
Loxley Elementary School, Loxley, AL
Philip Hudec
Palm Springs Unified School District, Palm Springs, CA
Leslie Kneipfer
Foxborough Regional Charter, Bridgewater, MA
Liz Lowe
Bell Gardens High School, Bell Gardens, CA
Stephanie MacDonald
Soldier Hollow Charter School, Heber City, UT
Maria Marsicano
Academy Programs, Fairmont, WV
Julie Massey
St. Martin Middle School, Ocean Springs, MS
Patricia McGaffigan
Avon Middle High School, Avon, MA
Ed Mondragon
Granite CTE Department, SLC, UT
Debbie Morgan
South Sevier High, Monroe, UT
Claudia Ochatt
Ransom Everglades, Miami, FL
April Oden
Future School of Fort Smith, Fort Smith, AR
Darin Orton
Mount Logan Middle School, Logan, UT
Loralie Pearce
My Tech High and Utah Online, Kamas, UT
Birgith Phillips
Hialeah Senior High, Hialeah, FL
Shawnee Robinson
New Bridge, Ogden, UT
Deborah Rudtke
Alachua Elementary School, Alachua, FL
Daleth Sendin
Centennial High School, Ellicott City, MD
Adeena Teres
Stoneman Douglas High School, Parkland, FL
John Teuscher
Freedom Preparatory Academy, Provo, UT
Maureen Tumenas
Hadley Elementary School, Cummington, MA
Michele Vocu
Bishop Verot Catholic High School, Fort Myers, FL
Natalie Ward
Eastside Elementary, Lake City, FL
Jill Weaver
Valley View Junior High, Farmersville, OH
Want in Next Time?
If you're interested in applying for the next round of AstroSchool (likely this spring), simply enter your email in the field below. You'll be added to our newsletter list and be among the first to know when applications re-open. You'll also get access to free downloads to help you become an even more powerful STEM educator.