How many rubber bands does it take to explode a pumpkin?
We thought it would be fun to try a holiday-themed twist on our famous Watermelon Explosion lesson from this summer. (Plus, it's always fun to watch something explode!)
It doesn't matter whether you're looking for a way to teach Newton's Three Laws of Motion or just want a fun after school activity. Making a pumpkin pop is a fun (but messy) way to spend a fall afternoon!
What You Need
Preparing for this lesson is simple. All you need is a bag of rubberbands, protective eye gear, and a pumpkin. If you want to gather data about the force of the explosion, you'll also need one of our sensor kits (available free with a monthly subscription to our lessons portal).
You'll probably want to do this outside, since pumpkin explosions tend to be gooey!
What Kids Will Learn
As you know, force describes any interaction between objects that changes the object's motion. As Isaac Newton's Three Laws of Motion state,
An object in motion will remain in motion unless acted upon by another force and an object at rest will remain at rest unless acted upon by another force. (This is also known as The Law of Inertia).
An object accelerates when a force is applied to an object. (The famous equation Force = Mass*Acceleration is a derivative of Newton's Second Law of Motion).
For every action, there is an equal and opposite reaction (if you apply a force to an object, that object pushes back in the opposite direction equally as forceful).
In physics terms, work refers to the transfer of energy. Delivering force to an object – ie, wrapping rubber bands around a pumpkin – is an example of energy transfer.
It's also important to review the different types of energy.
Potential Energy is energy that is stored or static energy
Kinetic Energy is energy that is in motion
In our lesson, the rubber bands have potential energy since they're elastic– just flick your hand with a stretched rubber band to feel this energy yourself!
How to Do the Lesson
Actually running the lesson is easy.
Wrap a single rubber band around the pumpkin. (If you have a Sensor Kit, connect the Space Board sensor to this rubberband like on this watermelon. You'll also want to run the code from Watermelon Explosion to capture acceleration sensor data from the Space Board.)

Start wrapping more rubber bands around the pumpkin, one at a time.
Count how many it takes to make it explode!
(If you have the Sensor Kit) Track the Sensor Kit data to see how much force was created in the explosion.
Here's a video of the lesson in action:
So What's Happening with the Pumpkin?
At first, the pumpkin is at rest. But as you add rubber bands to the pumpkin, those rubber bands gradually begin transferring force to the shell of the pumpkin, causing an inelastic deformation on the outside of the pumpkin. Eventually, the combined potential energy of the rubber bands is so strong, the pumpkin can't take it anymore and explodes from the force!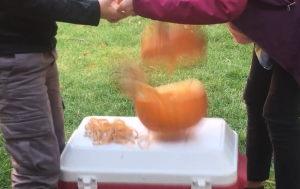 It's a fun way to see scientific principles in the real world.
Take it a Step Further
If you have the Sensor Kit, you can measure and compare the force needed for different pumpkins. Does it really take more rubber bands to get a force for a big pumpkin to explode than a small pumpkin? Does the size of the rubber bands affect the amount of force applied? What's the most amount of force you need to make a pumpkin blow up?
By giving your students or children the opportunity to measure acceleration, they'll be able to see not just how scientific principles work, but why data collection is important. Data analysis is one of the fastest growing 21st century skills. By preparing kids to learn how to gather and analyze real-world data easily, you're giving them a head start for life.
Get Started with Your Own Pumpkin Explosion!
The Because Learning team would love to see your pumpkin explosions! If you try this lesson, share your photo on our Facebook page and let us know how many rubber bands it took!
And if you don't have a Sensor Kit yet, you can get one for free by subscribing to our lesson portal! We'll rush the sensor kit to you, plus you'll get access to 100+ lessons across subjects and grade levels, with 5 new lessons being added every month. Subscribe now by clicking here.